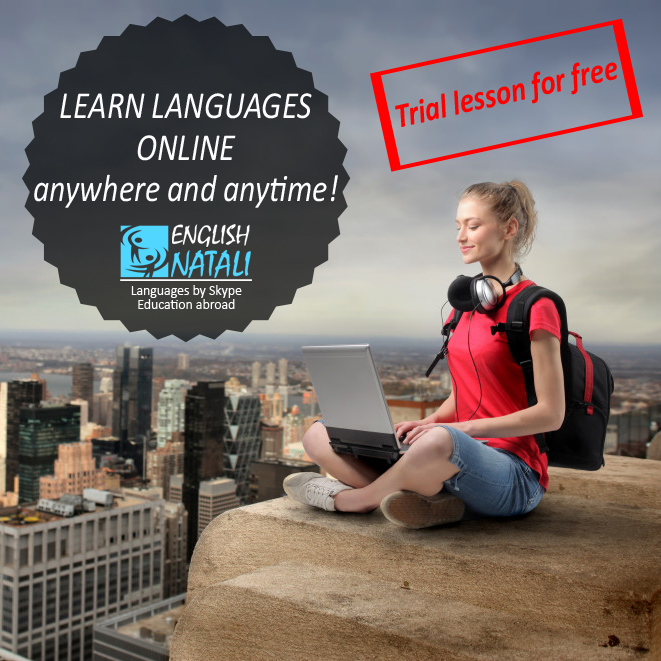 Today we includes more than 7000 students and more than 400 teachers from all over the world.

All you need to study with English-Natali is a good Internet-connection and Skype on your computer.



English-Natali
offers you the following types of courses with native-speaking teachers:




General English. It includes the basic language knowledge and teaches you to understand the speech and to support the conversation.
This program includes the following:
- Studying words;
- Studying grammar;
- Reading;
- Writing;
- Spoken expressions and commonly used phrases
As a result of the course you will:
- Overcome your language barrier;
- Read and translate English texts;
- Acquire basic vocabulary;
- Develop speaking skills


Business English. It includes special vocabulary and terms used by your business-partners and allows you to understand the business-processes in the foreign company.
The course allows you to solve the following tasks:
- Prepare for an interview in a foreign company;
- Compose business letters;
- Prepare for a business-trip



Besides our online lessons we offer
foreign languages studies abroad.
English-Natali successfully cooperates with the best language schools in Great Britain, the USA, Europe, Asia and Africa.

The advantages of our service are:
- Wide range of schools and courses at available prices;
- Good variants of accommodation: student residence, homestay, apartments, hotels;
- Flexible discount system and best offers from the language schools.
We carefully choose the language centers for our students, according to the quality of teaching and methods. The teachers at schools comply with the highest and strictest international criteria.

To be a student of English-Natali you have to do the following:
- Sign-in for a demo-lesson and choose a teacher;
- Pay for your lessons' package;
- Start studying!

Choose an option General or Business and the number of lessons in the table below then press the button "Pay".


Individual lessons with native speakers - 45 minutes